KYC reloaded - Transforming the client experience
A slow client onboarding process in Wealth- & Asset Management is frustrating for clients and businesses alike. What may not be as obvious is the sizeable opportunity cost that it creates. How big is the opportunity cost, you may wonder?
Lost top-line revenue & growth
Institutions serving High Net Worth clients ("HNW") report that 12.7% of client accounts are lost or delayed during onboarding1. At worst this means lost revenues, and at best delayed cash flow.
Studies show that there is a 75% correlation between onboarding experience and the customers lifetime value2. A poor experience will undoubtedly make a client think twice about consolidating assets with a firm or provide referrals.
First impression
The average cost of onboarding a client is eye-watering at around 6000 CHF per client3, 74% of which is labour related4. Furthermore, ongoing compliance costs rise with potential gaps in information. The global average in Wealth Management onboarding is between 26 days (32 for corporate & SPV clients). Institutions also request more information or documentation 4-8 times5.
Commission margins have been compressed by over 9% in private banking the last few years – so how do you improve client lifetime value?
When it comes down to it, the industry is providing clients with a poor first impression. It's no surprise relationships may sour before they have even started! It takes considerable time and effort to rebuild trust after an initial bad impression, and trust is the lifeblood of the industry.
The pressure from regulation is real, and due diligence is essential. However, at 30 days and ten client touches, it seems there is ample room for improvement.
Increased pressures on margins
There are three strong forces at play here, making for a toxic mix:
The high opportunity cost of lost sales and delayed revenue.
The high direct cost of client on-boarding and ongoing compliance.
Lower Industry-wide pricing power due to competition and new products like robo-advisory and increasingly specialised Exchange Traded Funds.
The net result is margin compression.
On first impressions, one conclusion may be to deem specific clients, such as smaller accounts unprofitable and instead focus on larger ones. However, this conclusion may not hold up. Larger accounts are more likely to carry higher risk from a Money Laundering perspective. They also require more in-depth due diligence and more careful ongoing monitoring. In other words, the higher fees from a more substantial account may get eaten by higher onboarding and compliance costs. There is nowhere to go, other than addressing the elephant in the room: client onboarding.
Can we turn an existential threat into a competitive advantage?
There are four things we would need to achieve to turn this issue on its head:
Increase client conversion rates - more revenue
Improve time-to-revenue - recoup costs faster
Raise customer lifetime value - maximise chances of asset consolidation & referrals
Reduce onboarding & compliance costs
Fortunately, there is plenty of room to achieve all four objectives. Focus on one lever to improve: your client onboarding process. Such a change may involve several internal changes - it may involve new software, re-engineered processes, merging of roles or previously separate steps or any number of other changes. However, the internal metrics that drive this change are easily measured. A good starting point is to start measuring and improving the following:
Prospect conversion rate.
Client referral rate.
Time to onboard.
Client touches during onboarding.
Internal touches during onboarding (number of people involved, handovers, number of times a client needs work).
Required rekeying into different systems.
Improving the first impression and real experience of your firm that a client has is not a nice-to-have, but a competitive imperative.
Improving the first impression can have a profound impact on both your top- and bottom line. With regulation showing no signs of slowing down, adding more people to solve the problem is not going to be a sustainable solution.
Where do we start?
Jumping into a significant business change can be daunting. However, it might make sense to at least start benchmarking how you are currently doing. You can do this by using the metrics we have suggested in the previous section as a starting point.
After all, if you can't measure it, you can't improve it.
Wouldn't it be great to decrease the onboarding time significantly under 14 days and "touch" the client just two to three times instead of more than 10 times?
What would it look like on your P&L if you mitigate the margin compression by significantly reducing the time to revenue with new clients?
Could increased client lifetime value reduce the liquidity constraints and capital requirements on private banks balance sheet mid- to long term?
To kickstart your client onboarding initiative we want to provide you with a first free consultation on how to apply our proven framework of client onboarding Key Performance Indicators.
GET IN TOUCH – and improve your time to revenue by transforming your pain points to a competitive advantage.
Chaordic gets media recognition »
In the age of AI, a human touch is still needed in KYC »
Posted by
Wille Faler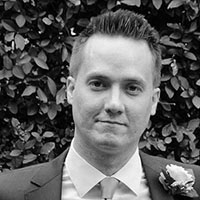 Wille is a technology industry veteran of almost 20 years and has worked on a consultancy basis with organisations such as the Financial Times, BBC, UBS and Barclays Wealth Management.
He combines deep technical know-how with a thorough understanding of the regulatory landscape financial institutions face today.

Languages: fluent English, Swedish, Finnish & intermediate German.
Subscribe to our newsletter
Get updates about us and summaries of AML & Compliance news straight into your inbox!